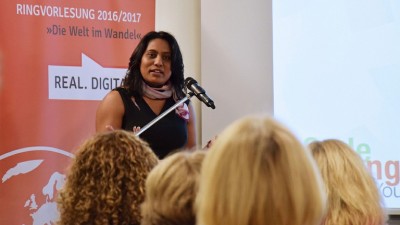 COVID-19 has disrupted education and training opportunities for many around the world, creating long-term implications for post-pandemic recovery. The pandemic has created a new economic divide, which is based on Internet connectivity and lack of digital skills.


It is therefore important to highlight the role digitalisation has played in shaping our lives and work. While digital technology can play a huge role to mitigate the effects of the crisis on disadvantaged groups, the lack of access to digital skills is presenting new challenges.


In regions where Internet connectivity is no issue, virtual platforms are enabling students to pursue online learning, entrepreneurs to engage in e-commerce, and workers to earn income through online freelancing and micro-work.


These remote opportunities are particularly beneficial for young women and other vulnerable youth who have been disproportionately affected by the crisis.


Global leaders advocate for the Internet as a universal right and meaningful connectivity, however the issue of access to digital skills remains a challenge.


Companies globalise and scale, placing more emphasis on conducting business online. They leverage enterprise software that digitally transforms their organisation and helps them reach customers through online channels. However, technology still has not closed the digital divide between genders. This is a significant factor in keeping women out of the workforce. In 2016, when the UN put the economic inclusion of women on the agenda, the gender gap in the workforce was 26% for G20 countries — and much higher in lower-income nations.


I have founded The Code To Change to tackle the digital skills gap for economic empowerment of disadvantaged groups in society, particularly for women. The organisation is connecting talented people from disadvantaged backgrounds to the digital economy through re-skilling and up-skilling. Since its launch, we have trained over 500 women to be tech-job ready, and in the process have impacted the lives of over 3,000 women. We are honoured to be nominated for the 2020 UNESCO Prize for Girls' and Women's Education by the South Asia Foundation for our efforts in the field.


The Code To Change works with a hybrid model of learning where special attention is paid to creating an enabling environment to learn and to succeed. We work with communities where there is a limited support system for continued learning and mentorship. A digital skills bootcamp gives participants access to learning, peers, mentors and platforms, which helps them overcome barriers to start accessing employment opportunities online.


During COVID-19 lockdowns, one of the biggest challenges the organisation faced with disadvantaged groups was continuing the education programmes for people with limited access. It was a huge issue too, because 95% of our learning journeys were based on in-person bootcamps and our programmes benefited a lot from the direct interaction between participants and instructors.


All of a sudden, we had to explore mobile technologies for communication with students with no access to stable Internet. And we needed to utilise mainstream channels like Facebook, Whatsapp and Streamyard. We managed the pivot to delivering training online but find that with time, levels of engagement drop. This is our organisation's biggest challenge at the moment, with classes that have been designed for face-to-face interaction with and among participants. How can we make it work with online sessions?


Innovate or Become Irrelevant
What contributed to our success until now was the motivation of our learners, the versatility of our ground team and the instructors, and the strategic partnerships with local stakeholders from both private and public sectors. We also noticed that continued networking and communication amongst participants of the bootcamps themselves positively contributed to achieving results.


In conclusion, connectivity and digital know-how are critical to social and economic participation, especially for underrepresented groups. To ensure meaningful participation, we need to prioritise digital empowerment (digital skills) and an enabling environment for women to integrate digital technologies safely and positively into their lives.


I would like to close with two stories and the words from The Code To Change students. These stories are special to me, because these two participants started getting paid work a few weeks into The Code To Change digital skills bootcamp. They are two young women from a remote city in Pakistan, where options for such training are very limited. Their stories are especially close to my heart and personify the immense impact of feeling digital and economic empowerment.


Vreesha Chaudhry was a participant in our Code To Change Pakistan bootcamp in the Khanewal/Multan region in 2019. She was one of 80 participants and was very keen to learn about web development and UX Design. She started getting paid assignments even before graduating from the bootcamp. When she got her first order to build a website through the networks she was introduced to during the bootcamp, she was over the moon.


In her words: "I am Vreesha Chaudhry from Pakistan, a web developer and graphic designer. I joined the code to change boot camp (1st batch) and luckily received my first order during this time to build a website for a client who belongs to Saudia Arabia. The website was related to construction and I completed my work in 15 days. Later, in addition to this, I also received many orders related to web development and graphic designing."


One of our other students, Mamoona Zaidi told us "Pursuing your passions makes you more interesting, and interesting people are enchanting. With this notion, learning new, creative and updated knowledge is something that attracts me the most. On hearing about the Code To Change boot camp, I just went for it! Through this bootcamp, I learned a lot about freelancing platforms for content development gigs from our dedicated instructors. While I was following the course work, I got my first paid assignment for content writing with a construction company. I am grateful that I got this opportunity to become financially independent."


By Iffat Gill, who will be speaking about access, gender equality and women's economic empowerment at OEB20.