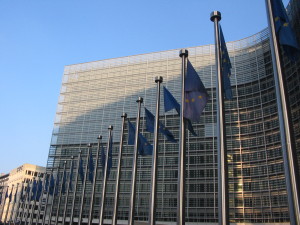 The European Commission Directorate General for Education and Culture (DG EAC) and the Education, Audiovisual and Culture Executive Agency (EACEA) are participating in OEB 2013 with multiple initiatives, presenting and discussing the latest European policies in education and training, as well as promoting the new programme Erasmus+.
In September 2013, the European Commission published its new Communication: "Opening up Education: innovative teaching and learning for all through new technologies and open educational resources". The initiative is meant to support and increase innovation and digital skills in education, and sets out a European agenda for stimulating high-quality, innovative ways of learning and teaching using technologies and digital content.
"We are focusing on 3 drivers of change: teaching methods, digital content, and infrastructures. Firstly, we propose to create –together with Member States- opportunities for organisations, teachers, students and pupils to be more innovative by making more use of digital technologies. Secondly, we propose to increase the use of Open Educational Resources, to ensure that educational materials produced with public funding are available to all". (…) "The third dimension in our proposal has to do with infrastructures. We need and we can close the gap and modernise our educational institutions.  Last but not least, there is a fourth dimension I ought to mention in our proposals for opening up education. It concerns all of us. All stakeholders need to be involved: teachers, learners, families, digital communities, industry, economic and social partners", stated Androulla Vassiliou, Commissioner for Education, Culture, Multilingualism and Youth, and Neelie Kroes, Vice-President of the European Commission responsible for the Digital Agenda  during their speech for the launch of  "Opening up Education – Making the 21th century classroom a reality" on 25 September 2013.
Erasmus+ (2014-2020), the new European programme for education, training, youth and sport, will support the implementation of the Communication. The new programme, bringing together seven existing programmes, will significantly increase the funds allocated for the development of knowledge and skills. Three Key Actions will be funded:
Learning Mobility of Individuals;
Co-operation for Innovation and Good Practices;
Support for Policy Reform.
Over 4 million people will have the chance to study or train abroad with a grant from Erasmus+. Full-time Masters' students will also benefit from a new loan guarantee scheme set up with the European Investment Bank Group. Around 400 "knowledge alliances" and "sector skills alliances" will promote creativity, innovation and employability, and regular large scale policy experimentation projects will be launched with the involvement of high level public authorities in charge of education, training and youth.
Concretely, the 3-day event will be opened by the pre-conference workshop on "Openness, Innovation, and Inclusion: European policies and programmes in ICT for learning" on 4 December.  The session will take stock of lessons learned through the Lifelong Learning Programme, and address the new challenges ahead.
On 5 December, a dedicated session will illustrate the Communication "Opening up education" in the wider European economic, social, and educational perspective as well as provide concrete information on funding opportunities within the new Erasmus+ programme. The workshop is scheduled at 14:30 in Potsdam I.
The European Commission and the Executive Agency will also run a stand (A28 – Room Potsdam II – Hall A) during the main conference. The stand offers the opportunity for the audience to discuss with staff from DG EAC and EACEA on recent policies and new funding opportunities, meet and exchange ideas & experiences with LLP-KA3-ICT project coordinators, and learn how the Open Education Europa Portal works and what it has to offer.
For more information visit http://eacea.ec.europa.eu/llp/events/2013/online_educa_en.php