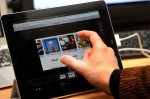 Let's bring the tablets into the classroom to teach with, to work with; to educate with and to just let the kids have a go at them – in an educational framework. Need we underscore this as educators in the 21st century? The technology enhanced learning initiatives that are popular at universities are fast becoming a reality for German secondary schools.
One of the highlights of the pre-conference School Forum at ONLINE EDUCA BERLIN 2012 was a presentation by Sabine Baumann, a math teacher and tablet initiator at the IGS Lehrte School in the Hanover region. The tablet was, according to Baumann, the right choice for the class she is now teaching. Previous classes used netbooks and the next class might use another tablet altogether. The end-user device is not the point – what counts is what works, what gets the pupils engaged and, simply, what gets them to learn.
Of course this is nothing revolutionary at this stage – but as Ms. Baumann pointed out – it's a full-scale classroom with 30 plus kids and all of the pupils have a tablet at their disposal. And it actually works as the tablet can be used within this setting for a myriad of things – as a book, for notes, as a thesaurus, a dictionary, for collecting mathematical formulas, as a textbook and, last but not least, as a school portfolio – all at the same time.
These are clear advantages to using this technology: quick access, small and light and therefore very portable (mobility leads to easy choice of where and how one wants to learn), long battery life, intuitive and easily explainable technology, video and picture transmission via Apple TV and Wi-Fi, multimedia learning applications such as pictures, films and audio files, a large selection of educational apps and digital books, a multi-touch interface that allows for easy as well as haptic usage. The big plus is that students can use a digital pen to fill out exercises and worksheets directly on their device.
And as with all technological devices there are drawbacks – which Baumann had ready solutions for as well. The 'real' keyboard is supplementary and if the pupils wanted one, they had to order it additionally. But a look at keyboard efficiency stats shows that using a regular keyboard was only 1.3 times faster than entering your data via the touchscreen. It has a relatively small display when compared to the standard laptops – then again; a netbook's screen is only 2 inches bigger. And of course there are no USB port nor CD or DVD drives but exchanging data using the cloud solved that problem and AirPrint worked fine for all necessary paper printouts. The MS Office package is still at the beta stage – not to despair, there are other alternative office solutions available for the tablet.
Technology enhanced learning initiatives mean that tablet use in classrooms around the world is increasing exponentially. In Turkey 52 elementary schools have already been equipped with tablets by the Turkish Ministry of Education. Turkey is planning to buy 15 million tablets in the next four years in order to disseminate these in the classroom. In the US juniors and seniors at many high schools are currently being equipped with tablets. Momentarily 2,300 schools are already working with tablets. South Korea is planning to provide all pupils with tablets latest by the year 2015 and all educational material will be digitalised by then. The government there is planning to spend $2.4 billion on the project. The city of Stockholm in Sweden has launched a pilot project in 3 schools, focussing on 1st graders. By 2013 the rest will follow.
These all point to a digitalisation of education, both at a primary as well as secondary level. What was also pointed out is that there is a public-private partnership at work here: a local tech company is avidly supporting the tablet classes. You need to have a supplier of tablets and other similar devices that you can cooperate with in order to provide basic training and consulting services, not just for the teachers but also for the pupils if need be. A 1st and 2nd level support needs to be available as well as such things as mobile device management, insurance (so what if a pupil drops or damages the tablet in class or at home?), supporting the school when it comes to parent-teacher meetings and further training for the educators.
Of course Ms Baumann went into the pedagogic concept as well, what was actually happening in the classroom, what apps were being used, there was a lively discussion as to what the kids were doing with the tablets in class that they maybe should not be doing (social networks etc.), there was a rundown on the black and white lists at the school etc. But all in all it was an informative insight into teaching a math class at a secondary school in the year 2012. And where are you?
Have a look at the project here: http://ipadklasselehrte.wordpress.com (German language).