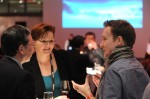 In addition to a large selection of internationally-renowned speakers, expert-led masterclasses, workshops and interactive sessions, ONLINE EDUCA BERLIN 2012 has a host of other activities available to make your time at the event unforgettable. This year, we are offering more brand-new activities than ever before, each designed to ensure that you get the most out of your OEB experience.
Above all, we try to facilitate the exchange of expert knowledge between participants, so this year, there will be more sessions than ever devoted to helping that exchange of ideas in invigorating and unique ways.
The Salon
OEB 2012 will see the introduction of the Salon: this session is for smaller groups of OEB participants to discuss and explore topics in a more intimate, discursive setting. Located in the Kaminzimmer within the Hotel InterContinental, this format is designed to emulate the literary salons of Berlin's past, where groups of like-minded individuals came together to discuss the matters that were on their mind.
There is no set agenda: the conversation is started by you! You'll drive the discussion and so will be able to debate the ideas that you've been thinking about. To be a host and to introduce a topic to The Salon, please email salon@oeb2012.com.
IMPULSE!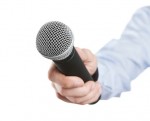 However, if you want to share an idea in a more public way, then IMPULSE is for you.  In this exciting new session, we want you to share ideas that are so fresh that you haven't even blogged about them yet. Participants speak for three minutes with no preparation or slides – just ideas and inspiration. To get involved, all you have to do is sign up for a slot 15 minutes in advance in room Rook. Then, you'll get 3 minutes in which to speak about the future of technology-supported learning. At the end of the session, a winner will be picked by audience vote, and this winner will receive a FREE conference pass to ONLINE EDUCA BERLIN 2013.
This session is open to everyone who's a conference participant – so how will you win over your audience? All we want from you is an innovative idea, the motivation to talk about it, and the impulse to do it!
Exclusive screenings
In keeping with the theme of innovation, the VIDEO EDUCA part of the programme will see the exclusive screenings of three films:
We Went To War: This documentary has been directed and produced by award-winning keynote speaker Michael Grigsby and VIDEO EDUCA Masterclass producer Rebekah Tolley. The film follows on from Grigsby's 1970 documentary, I Was A Soldier, which told the story of three Vietnam veterans. This film returns to the same three ex-soldiers several decades on and looks at their life anew. Watch the trailer here.
Colors of Math: This film, from Russian filmmaker Ekaterina Eremenko, explores the idea that math is not as abstract and mysterious as many people believe. This film shows how math simply acts as a language to explain the world, and that means that it touches all of your senses: you can see, hear, smell and feel it. Click here to watch the trailer.
Michael Grigsby, Rebekah Tolley and Ekaterina Eremenko will be present after the screenings of their films to answer questions and talk about their films.
The third film is the Connected, by Tiffany Shlain, the award-winning American filmmaker and founder of the Webby Awards. This humorous and thought-provoking film will explore the ideas and difficulties that exist in the Internet Age; according to Shlain, we've moved from independence to interdependence. Find out more here.
OEB Radio
To help you stay in tune with and on top of and everything that's going on at the conference, make sure you catch OEB's live radio show, Thursday and Friday at 11:00. This programme, hosted by Graham Atwell, will be broadcasting live from OEB for 40 minutes on both days, bringing you live debates on issues from the conference as well as interviews with speakers. As well as streaming the show live on the Internet by clicking here: http://tinyurl.com/c65kzwg, you can download the show as a podcast afterwards.
Spa & Sauna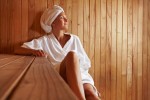 And finally, for those looking take a breather from OEB's jam-packed OEB schedule, we are offering participants a luxury that is not to be missed: exclusive use of the Hotel InterContinental's luxurious spa and sauna. Here, you will be able to relax and unwind, then return to the conference feeling refreshed and revitalised.
To find out more about the exciting events and networking opportunities in store at ONLINE EDUCA BERLIN 2012, please click here.