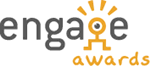 Outstanding contributions by teachers, educational practitioners, game developers and producers to the quality of game-based learning will be recognised under the ENGAGE project at ONLINE EDUCA BERLIN 2010.
During an official, live-streamed ceremony on December 3rd, 2010, the European Network for Growing Activity in Game-based learning in Education (ENGAGE) will reveal the nominees for its quality awards. An inspiring panel discussion with leading experts on game-based learning will preceed.
The ENGAGE quality awards are divided into three categories: Best Practice (for specific documented cases), Learning Games Quality (for outstanding methodological, didactical and technical standards) and Game Inclusion (digital games and GBL practices which successfully raise self-confidence or increase motivation to learn as well as encourage participation in a community or in society).
The jury comprises game-based learning experts from industry and research as well as teachers with a professional background in using games for teaching and education.
The ENGAGE project aims to further promote the use of GBL in education. It has been funded with support from the European Union.
Please visit the ENGAGE Portal to find out more about entry criteria and prizes for winners.