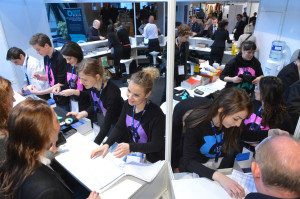 ONLINE EDUCA has opened its doors in the Hotel InterContinental, Berlin! Already, hundreds of participants have flocked to the Hotel, to take part on workshops, Forums and wander through the exhibition area – a vast space, full of lively displays, weird and wonderful presentations and much, much more to dazzle and engage.
And it's only going to get busier – according to the latest figures, we have more than 2000 participants from over 90 countries, 361 speakers and 84 exhibitors.
With so much going on, it would be impossible to reflect the entire Conference at once – but here on the News Portal we'll be bringing you a daily selection of highlights, reporting on the most provocative ideas arising from our sessions, the trends we've discovered, and giving you hot tips on what to visit the next day.
Keep up to date on the Conference right here on the News Portal!