"Yesterday's just a memory, tomorrow is never what it it's supposed to be"


Bob Dylan


Looking back on the first OEB (Online Educa Berlin) we could accurately reflect that nothing has changed but everything has changed.


Held under the patronage of Dr Martin Bangerman, the European Commissioner for Industry, Information Technology, and Telecommunications as well as the Daniel Tarschys, the Secretary General of the Council of Europe, OEB95 was a very different event to OEB19, yet the introduction to the inaugural 1995 event, with a few minor tweaks, could have been written today.


We are on the brink of a new phase of development in the world economy; the information society is approaching in leaps and bounds. Information and communication technologies are turning knowledge-intensive services into one of the most powerful motors of economic growth. The digital revolution is already triggering enormous structural alterations. As this revolution is based on information – itself an expression of human knowledge – the impact on education and training will be fundamental.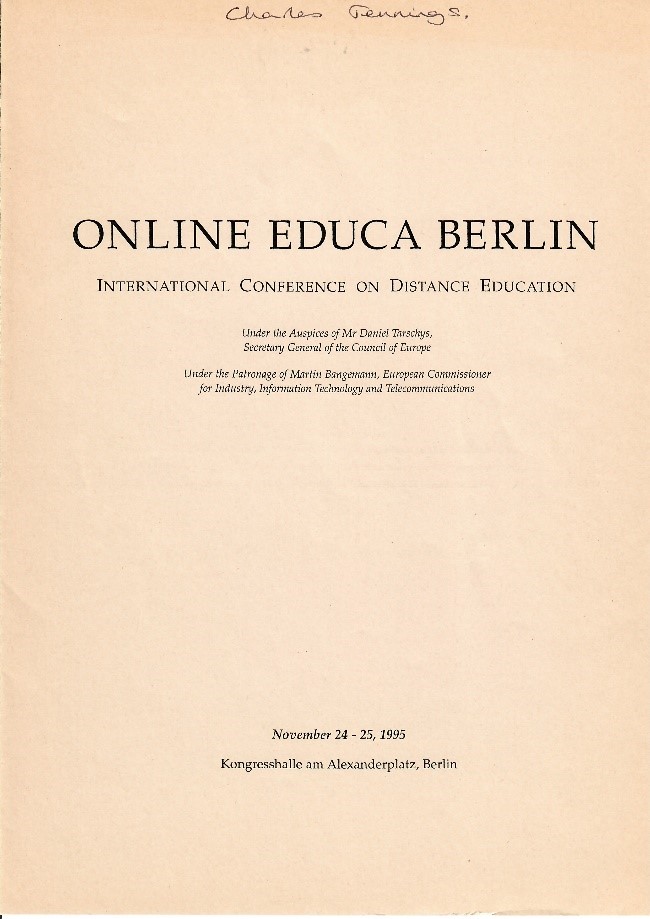 The First OEB
OEB (Online Educa) Flyer 1995

The first OEB took place in the Kongresshalle at Alexanderplatz on the 24th and 25th of November1995, a very different environment from the today's venue at the Intercontinental Hotel.


If my memory is correct there were some 160 participants, many of whom presented papers or sat on panels. That's one very visible difference from today's events with more than 2,000 participants swarming through the conference at the Intercontinental today.


OEB95 primarily showcased output from European Commission funded research in the 1980 and early-90s, particularly the flexible and distance learning (DELTA) programme and the follow-on TELEMATICS programme, but others as well.


In 1995 the European Union had only recently expanded from 12 to 15 members with Finland, Austria and Sweden joining on 1 January that year. However, a significant number of other countries were represented at OEB95 as some EC-funded programmes stretched beyond the EU boundaries to support and collaboratively build online learning solutions. An ISDN-based videoconference discussion between Canada and Berlin took place during the first OEB conference and projects with Russian, Central and Eastern Europe, South Africa and Australia were showcased.


Although many criticise the Commission's efforts in its early pump-priming activities for technology-enabled education and corporate training (and, looking back, there is certainly plenty to criticise) the funding did serve to build the world's the most comprehensive network of researchers and practitioners in these domains across academia and business. It should also be noted and remembered that OEB has played an important role in maintaining and building on these important research and innovation networks. OEB has helped bring expertise and innovation to Berlin from across the globe every year. This event provides opportunities for truly international exchanges and learning.


The Learning Experience at OEB95
Looking back at the programme and abstracts from that first OEB, one of the most obvious things that strikes you is the rather arcane (in today's terms) language that was used. Telelearning was the dominant theme in 1995. Telematic-based learning was the new kid on the block as opportunities for network-based education and training opened up on the back of IP protocols and the relatively new world wide web developed by Tim Berners-Lee and Robert Cailliau at CERN.


In terms of content, papers included those focused on the delivery of catalogues of online databases for students connected by ISDN and other ISDN-based solutions. Others addressed the potential of internal videoconferencing networks, interactive television, and satellite TV for education and training. All now bypassed by the Web, YouTube and apps such as Zoom, Skype and thousands of others created by kids in bedrooms or programmers in multinational organisations.


Looking back through the OEB95 abstracts, I was pleased (and not a little relieved) that the paper I presented in 1995 was focused on a challenge that we're still facing today; the increasing pressure to attract and maintain effectively skilled workforces. I guess I was lucky. At the time I was working in a business school and we had just launched the world's first pure online MBA programme to significant brouhaha. Of course, today there are hundreds if not thousands of online MBAs offered throughout the world. Despite the vastly improved technical platforms and apps used to deliver these programmes however, many still apply the same pedagogy as 25 years ago (or even 125 years ago in some cases) – still focused on the less-than-effective case method model, online lectures and the hope that social interaction will transmogrify into learning. So, I have some pleasure in the fact that there's still a lot of work to do in that area!


In the business world, the big players in 1995 online education and training were still predominantly the national telecom companies. Deutsche Telekom, France Telecom, Mercury Communications, Telecom Argentina and other telcos were all well represented at OEB95. Videoconferencing in telelearning, interactive television, and corporate training by telelearning were three of major themes for the conference. Today we're focused less on infrastructure and more on applications. Despite that shift, technology providers still play a major role in L&D solutions today. Technology often leads where it shouldn't, and effective design for improved performance through learning follows still as a second-class citizen.


The Journey
Tens of thousands of papers, case studies and workshops have been delivered at OEB since 1995. The journey has been an exciting one. Technology has developed in unimaginable ways, always offering a vision of seamless communication and 'always-on' learning opportunities. Some extraordinary projects have been realised. Some have sunk without trace. There have been ascents to the summit, drives into cul-de-sacs and hard bumps against barriers on the journey.


The developments of effective technology-based L&D solutions in the business world have not been hampered by lack of technology over the past 25 years. In fact, the speed of technology innovation is racing ahead. Our L&D solutions have been hampered by ties to twentieth century training approaches. To paraphrase Peter Senge 'how has the world of L&D changed in the past 25 years? The answer is. "It's hard to imagine any way in which it hasn't changed, and yet when you look at many L&D departments today versus 25 years ago, they are more similar than dissimilar".


The demands on today's L&D professionals to support their organisations and deliver increasing value in today's digital revolution was unimaginable 25 years ago. There are huge opportunities for L&D to step up and, in the words of my colleague at the 70:20:10 Institute Jos Arets, become Value Creators and not Order Takers. We only need the courage to take the first steps.



"May your hands always be busy,
May your feet always be swift,
May you have a strong foundation,
When the winds of changes shift."
Bob Dylan (again)


Written by Charles Jennings, who is a member of OEB's Global Council since the first edition.