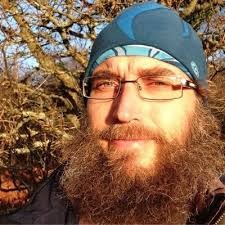 Spotlight Stage Plenary Speaker Julian Stodd, a writer, researcher and Captain at Sea Salt Learning. His work involves working with both communities and organisations around the world to help them 'get fit' for the Social Age, focusing on social learning and leadership to influence culture and change.


1. Who, or what, was your most important teacher?
I had an English teacher, a Dr Dean, who recognised that teaching English literature is not about facts, but rather about giving you space and support to write your own narrative around the stories that you read.


2. What were your best/worst subjects in school?
I was best at English, Classics, and History, and terrible at Maths. I only got given detention once at school, for failing a maths test, which to this day strikes me as a great injustice and failure of foresight.


3. If you could try out any job for a day, what would you like to try?
Up until this point, i have managed to avoid ever having a proper job, and don't intend to start now.


4. Which technology, in your view, had the biggest influence on the way we learn now
The printing press, because it stagnates knowledge and codifies it, and most education systems are based on outdated principles of the codification and transmission of knowledge.


5. What is the coolest gadget / technology / tool you have seen lately?
My Lego Mindstorms robot is awesome, but i do fear it's more intelligent than me.


6. What current learning trend do you think will have a lasting impact
I think that looking at trends is a poor way to find lasting impact. Spaced learning is worth a glance.


7. What would be the title of your autobiography?
'I think we got away with it'


8. Who would you recommend in the Learning World to follow on social media right now?
Be inspired by artists, musicians, and the kindness of strangers. Avoid anyone with the word guru or thought leader in their bio.


9. What was your first thought about OEB 2019's overall theme: Discovering Learning
Be more curious.


10. What do you hope to take away from OEB?
I hope to take away good conversations, to be able to share my ignorance and doubt, and to find new spaces in which to collaborate.


The Spotlight Opening Plenary will take place on Wednesday, Nov 27 from 18:00 – 18:45 in Room – Potsdam III