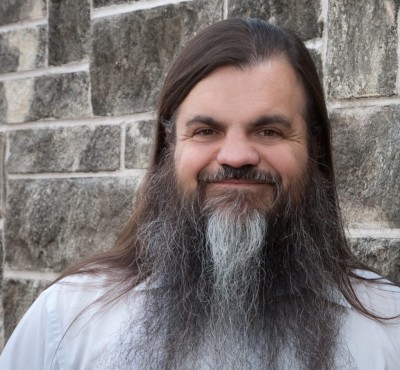 Read Plenary Keynote Bryan Alexander's answers to our speaker questionnaire! Bryan is an internationally known futurist, researcher, writer, speaker, consultant, and teacher, working in the field of how technology transforms education. He recently finished Academia Next: The Futures of Higher Education for Johns Hopkins University Press (forthcoming fall 2019).


1. Who, or what, was your most important teacher?
What: the many networks of people I learn from online, especially through the Web. They inform me, support me, and keep me on my toes.


2. What were your best/worst subjects in school?
Best: history, literature.

Worst: anything where the instructor didn't respond to students.


3. If you could try out any job for a day, what would you like to try?
Flight control, NASA Mission Control. That's an amazing nexus of cutting-edge thought, practical implementation, ambitious organization, and distributed learning. Plus space.


4. Which technology, in your view, had the biggest influence on the way we learn now
Mobile. People increasingly rely on mobile for interacting with the world, including connecting with information, instructors, and learners. We use mobile devices to reach the open web, in addition to engaging with other digital realms. We consume, capture, edit, and publish through hardware on the go. Mobile lets us reach the world of learning nearly any time and any place.


5. What is the coolest gadget / technology / tool you have seen lately?
TiltBrush. It's a qualitatively different application for VR, neatly showing what that tech does differently than other devices. Almost as importantly, it lets users make stuff. TiltBrush may be the most elegant, practical, and powerful introduction to virtual reality.


6. What current learning trend do you think will have a lasting impact
The shift to a video-first world. From videoconferencing for online classes to students creating digital storytelling projects, telepresence robots to informal learning via YouTube, videowalls on campus to remixes, this changes many pedagogical practices and support strategies. Video has enormous appeal for a broad range of learners.


7. What would be the title of your autobiography?
Future Shocking: Living and Looking Ahead.


8. Who would you recommend in the Learning World to follow on social media right now?
Stephen Downes. He has an excellent range of interests and a keen eye for developments in education and technology.


9. What was your first thought about OEB 2019's overall theme: Discovering Learning
It made me think of looking for learning in usual places, or through new lenses. That brought to mind the emerging science of learning, connecting formal and informal learning, and mobilizing non-educational technology technologies for study.


10. What do you hope to take away from OEB?
The opportunity to learn from a diverse group of thinkers and doers, practitioners and innovators.