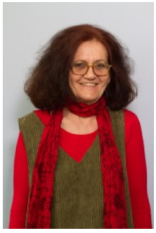 OEB plenary keynote Laura Czerniewicz is the Director of the Centre for Innovation in Learning and Teaching (CILT), at the University of Cape Town in South Africa. She has worked in education in numerous roles including strategist, researcher, educator and publisher. Laura has an ongoing interest in understanding inequality with a view to addressing it in education: "Forms of inequality morph – as one set of challenges gets addressed, new ones materialise as the situation changes".
She thinks, that "no-one can predict the future of education, because it is such a highly contested space. The way that current trends – such as automation, artificial intelligence and the growing use of algorithms everywhere (including education) – will play out depends on whether free market forces drive and determine what happens in education or whether a counter narrative gathers momentum to ensure that these trends serve the many rather than the few, and that the public good is reasserted as the number one priority".




1. Who, or what, was your most important teacher?
Art teacher at school who opened my mind and creativity


2. What were your best/worst subjects in school?
English was the best. History was the worst because we were taught the terrible curriculum of the apartheid government's Christian National Education. I dropped it as soon as I could.


3. If you could try out any job for a day, what would you like to try?
A surgeon


4. Which technology, in your view, had the biggest influence on the way we learn now?
Social media


5. What is the coolest gadget / technology / tool you have seen lately?
One that has not yet been invented! Every year I try out new different cool sort-out-your-life Task Management software and every year I abandon it.


6. What current learning trend do you think will have a lasting impact?
Learning analytics (and its relatives) – in both helpful and problematic ways


7. What would be the title of your autobiography?
Curious and Curiouser


8. Who would you recommend in the Learning World to follow on social media right now?
Maha Bali (@Bali_Maha) – she is forthright, critical, smart and influential


9. What was your first thought about OEB 2019's overall theme: Discovering Learning
That in the world today we can't assume that we know what learning looks like any more


10. What do you hope to take away from OEB?
A wider understanding of the issues globally (and something from the famous Christmas markets)