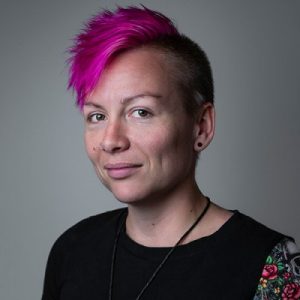 Opening Keynote speaker Anita Schjøll Brede is the co-founder of Iris.ai and a faculty member at SingularityU Nordic. She was voted as one of the Nordic's most inspiring women in tech and at OEB she will share her ideas about being human in the age of machine intelligence – and talk about whether "Machines can Love?" Find out more about her in our questionnaire.
1. Who, or what, was your most important teacher?
Gro Steinsland, professor emeritus at UiO. I took one brief course with her in Norse mythology in my early twenties and had a massive revelation on a key issue that I, as relatively bright student, who had made it through 13 years of school and two years of college had until then not grasped. She had us read two research papers analysing the findings from the same Viking grave. One was written in the lovey-dovey 90's which interpreted every object as a fertility cult offering to Freya, and another from a decade later which clinically observed that the same objects were most probably food. In my 15 years of education I had never understood the point of source criticism – and there it was, black on white, creating a fundamental innate understanding that "the answer to 'who wrote this' is of vital importance".
Outside of that, I am very much a 'just in time delivery' kind of person and will learn anything I need to on the go as and when I need to apply it. Which means I get myself into the weirdest situations having to learn the oddest things in the last minute.
2. What were your best/worst subjects in school?
I absolutely loved chemistry and in general did well across the board of subjects. History was the one subject however where I never ever managed to get up to an A – for some reason I couldn't see the 'big picture' lines of the past? Interestingly enough I am now married to an archaeologist who talks incessantly about the past.
3. If you could try out any job for a day, what would you like to try?
Would I get the accompanying skills for the day? If so, I'd love to be in a successful rock band for a day!
4. Which technology, in your view, had the biggest influence on the way we learn now?
I believe in the convergence of multiple technologies. If I had to pick one I'd say "the internet" but really that's just a mix of silicone chips and ones and zeros and electricity and programming languages and databases and transmitters and… You get the point. But the internet and with it the ability to share ideas across the world, for free, in an instant, has changed how we learn entirely.
5. What is the coolest gadget / technology / tool you have seen lately?
You know, I am in love with my friend Karen's company No Isolation's AV1 robot avatar. It allows kids with long-term illness to send their avatar to school or out with friends to learn, play and engage socially, to prevent isolation. Beautiful design work, and a deeply meaningful problem has been solved and all with such beautiful simplicity – done so right. I love it, and her!
6. What current learning trend do you think will have a lasting impact?
Continuous and continued learning is only going to be more important moving forward. We need to re-educate ourselves, our employees and our collaboration partners.
7. What would be the title of your autobiography?
"Pink-haired unicorns and other weirdos: a confusing tale of deconstructing boxes and defying expectations."
8. What was your first thought about OEB 2018's overall theme: Learning to Love Learning?
I love learning new things! So it spoke to me directly, as not only essential to our future – but as a lot of fun!
9. What do you hope to take away from OEB?
I know a lot about my own approach to learning, and I know a bit about how machines learn, but I do not know as much about more specific tools in learning, learning design, nor about the scientific discipline of human learning, so I am looking forward to learning more about those aspects!