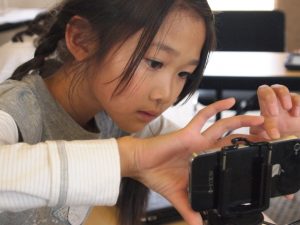 It's inherent in the way educational systems work currently that the big decisions about edTech don't get made by the people they affect. Governments make plans, civil servants allocate resources, and educationists advise teachers on the latest theories and devices. Amidst all this, it's often difficult to hear the voice of the people at the centre: the students themselves. Not so at OEB, however, where we've allocated entire sessions to "The Voice of the Learner" and to "Empowered Modern Learners". 
The ability of technology to empower students to take charge of their own learning has long been recognised, but student-centred learning is proving rather more elusive. With the new freedoms that technology provides, comes the fear of anarchy: if you give every student a voice, how do you make sure they're all heard? And if you give students choice, how many of them will choose wisely?
At these sessions we'll hear from several practitioners who are tackling the problem of creating systems of student-driven learning and hear success stories from the very cutting edge of the technological revolution in the classroom. One such story is that of Ann Michaelsen, a teacher/administrator at Sandvika High School in Norway. She presides over perhaps one of the first truly global classrooms, one whose technological innovations have garnered the attention of many, including the BBC.
All members of the class have their own blogs, where they display work and are able to comment on other people's; they also connect with their teacher and each other via Facebook and Twitter. But it goes further. "We focus on how students can create their own material and discuss important issues with peers in other parts of the world", explains Michaelsen. Students can receive comments on their blogs, not just from their own school but from across the globe. Comments have come from as far afield as South Africa, Australia, Alaska, and Greece, and her students and she have explored the collaborative possibilities of this to the full, setting up Skype contacts with learners in other countries.
For Michaelsen it's all about encouraging students to learn using technology, preparing them for future jobs, and making education "more relevant and interesting". Creating an interconnected classroom has allowed students to explore learning in new ways, and the results are clear: many of her globally connected educational pioneers are getting the highest grades.
Meanwhile, in the Netherlands, Renske Wiersema has been working on a novel scheme to give students ownership of their education at the Faculty of Medical Sciences of Groningen University. The fourth-year medical student is on the committee behind "Voucher Education", an online platform that provides students a voucher with which they can "buy" education professionals and permits them to create their own educational activities in accordance with personal needs.
"The aim is to get all activities student led", Wiersema says. "The shift towards student-organised activities is already noticeable, indicating the wish for it. We expect it to shift even further through more publicity and positive experiences from students."
Indeed, users have given the site a big thumbs-up, rating it 8-9 out of 10. While the project is still in a nascent phase, the signs are already positive: thorough evaluation has shown a beneficial effect on the attitudes of both teachers and students, as well as on idea sharing among all participants. At the session, we can expect to hear more about the fascinating insights Wiersema has gained into the realities of student-centred learning.
For both Michaelsen and Wiersema, student-centred learning is about creating a new environment, whether it's the connected classroom or the online platform. These new environments allow students to explore learning in new ways, to adapt, challenge, and transform their education in the way that suits them. But it's not about abandoning the teacher – rather, these innovative systems have given the teacher-student relationship a new lease on life by allowing students to interact with more teachers in more involving and engaging ways.
This session is part of a broader theme at #OEB16 entitled "Learning and Ownership" – a series of sessions asking who owns learning and how it can be regulated and assessed as focus shifts towards the learner. Find out more by having a look at our programme.