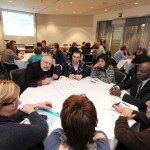 Business EDUCA is a must-attend event for managers and corporate learning professionals seeking not only inspiration, but concrete ideas on how to get the best out of the latest developments in L&D. There is a tantalising line-up of topics in the various sessions, and these are presented in different formats: workshops, panel discussions, and the ever-popular Learning Cafés. Here, participants engage in lively, interactive discussion, typically roundtable style, and always on one main theme pertaining to the workplace, business and strategies for success. There will be five such Learning Cafés at this year's Business EDUCA.
BUS20, entitled Changing Demographics in the Workplace will be facilitated by Karen Velasco, MD of PeopleSolve Ltd and Chairman of the British Institute for Learning and Development. She will lead the conversation on the shifting dynamics and demographics of the workplace today, and she will speak on ways to manage a multigenerational workforce. Catch this session on Thursday, December 1, 2011 – 14:15 – 15:45.
Bert De Coutere, e-learning expert and author of the 2009 book Homo Competens, will speak at BUS25, Demonstrating Value Back at Work, a Learning Café to be held on Thursday, December 1, 2011 – 14:00 – 16:00.
Managing Information Overload is the title of BUS50, a Learning Café hosted by Julie Wedgwood of Productive Limited, UK. Wedgwood is a leading proponent of blended learning and particularly values those L&D theories that can be readily turned into practice in the workplace. She has prepared a discussion entitled Using Content Curation as a Performance Support Tool to Help Learners Avoid Information Overload, a theme which resonates with the high-stress environment that today's workforce faces. This Learning Café takes place on Friday, December 2, 2011 – 11:45 – 13:15.
BUS63 is entitled Preparing Tomorrow's Leaders Today. Jay Cross, a renowned author and informal learning expert, will facilitate this discussion, and he will be joined by Karl Knispel of Metro AG, the global wholesale operation. In this Learning Café, participants can look at some of the challenges that lie ahead in our networked world and the role of innovative leadership. This takes place on Friday, December 2, 2011 – 14:15 – 16:00.
BUS68, the final Learning Café at Business EDUCA 2011, is entitled Improving Workplace Productivity Through Mobile Learning and will be chaired by Jan Kubasch of PricewaterhouseCoopers, Germany. This session will look at practical examples of how mobile devices can help learners consume, interact with, and create content that will help them to be more productive in the workplace. BUS68 takes place on Friday, December 2, 2011 – 14:30 – 16:00.