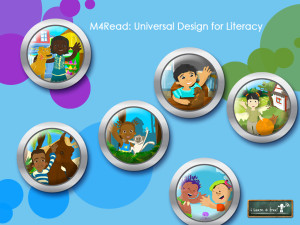 English is a foreign language for 95% of the world's children. Yet almost all digital literacy tools for young children are written in English. Mobile learning is therefore out of reach for all but those very few children prepared to start learning a foreign language before they have mastered their own. Isabelle Duston, a self-professed "serial entrepreneur" decided to tackle the problem by creating educational applications that will bridge the digital language divide without losing cultural diversity in the learning process. Her iLearn4Free venture is developing apps in several languages for teaching little ones how to read in their native language.
Identifying the niche
When Isabelle Duston's Apps of All Nations LLC company took off in 2009, she decided to adopt a social entrepreneurship business model for her next venture, the not-for-profit iLearn4Free which she launched eighteen months ago. Its flagship application, M4Read, is still in development and promises to be a colourful interactive tool for 4-6 year olds who are learning to read. Duston had noticed the dearth of suitable mobile phone apps for non-English speakers and deplored the way many young learners were excluded from the mobile learning experience. "Learning to read is a difficult enough process without a child having to grapple with a foreign language," says Duston. "That's why we're developing this app." Duston is initially working with French, Spanish and English, and she is collaborating with a team at the University of Pretoria to work on at least some of South Africa's eleven official languages. A Swahili version is in the works, and Duston also hopes to work on Danish, Swedish, Polish and other Eastern European languages. Although plans have been in place to work on a Papiemento M4Read app, that team wish to be paid, so the project has been set aside for the time being. Duston brushes off these setbacks and says, "As an entrepreneur I have to take it in my stride and adapt to the opportunities that do arise."
Intercultural learning
The app consists of six storylines, available in different languages and featuring, for the sake of emphasising the world's diversity, a character from a different cultural background. Achieving a universal design for an educational app is not a straightforward matter when contending with different languages, customs and standards. Duston says, "While some people see cultural differences as obstacles to be overcome, I see them as an opportunity for innovation, and on this very project we worked with ten people from different cultural backgrounds, five different countries in total."  She found that their online collaboration fostered a trusting, fruitful relationship. The multicultural team brought a universal appeal to the app. The characters in the stories each have their own cultural specificities demonstrated within general themes that appeal to children everywhere: family, friends, animals, nature and, of course, play.
Education
While the young users are kept entertained, the app is actually replete with sound educational content for fostering literacy. Duston says, "We have adopted a global approach in uniting experts from different cultures and in trying to find a common educational ground to ensure that the project is efficient and financially viable. But we have not overlooked the importance of tailoring the content to the user's linguistic context. We therefore work with reading specialists, linguists, teachers and writers from the specific languages featured." The material in M4Read is modelled after the "Big Five" focus areas recommended by the (American) National Institute of Child Health and Human Development: phonemic awareness, systematic phonics, vocabulary, fluency, and comprehension. Duston explains, "We have structured M4Read around four key components: Learn, Reward, Stories and Results, with all of this spread across 30-35 units. It depends on the language because the phonemes to be learnt of course differ." So with instructions on how to sound out letters, some games, exercises, puzzles and stories, the app challenges the young users while keeping them motivated by the rewards and points needed to proceed through the successive units.
Looking ahead
M4Read's mobile platform makes sense at a time when mobile phone penetration is growing exponentially in developing countries. The application will be available free of charge in developing countries where digital expertise and literacy lag behind the developed countries.  (M4Read will come at a small cost in developed countries). Duston hopes that M4Read will promote linguistic and cultural diversity by leading young learners to literacy in their native language. Her work has already been recognised by a TEDWoman award in 2010 for bringing literacy and intercultural understanding to children across the world.
Isabelle Duston will demonstrate the M4Read app at OEB during her presentation which is entitled Can International Collaboration Be a Tool to Achieve Universal Design for Educational Apps? She will speak on Friday, December 2nd at 14.15 – 16.00.