Ursula Hesselmann has been working at ZF since 1993. She is Manager New Media Qualification at ZF Friedrichshafen AG and responsible for e-learning. She started to build up e-learning for ZF worldwide from the scratch. Now she can look back at over seventy running programmes. She has also enabled over seventy authors at ZF to produce online training materials themselves. She established standardised processes of project management for the implementation of e-learning, and together with the workers council, she developed a factory agreement that is valid for the whole company.
The way to get from a project and budget plan to ROI for an online training programme isn't easy and needs to be well calculated. You have to define target and target groups, and content has to be specified. You need clear perceptions of a good didactic structure that will fit the needs of the learners. The project plan has to be well structured, project days need calculation, and responsibilities have to be assigned. Only after that can you establish your timeline and calculate your budget. You have to decide if you want an internal or an external ROI. What is the best way to get both? Where to start and where to stop?
These questions will be addressed in the presentation of Ursula Hesselmann, Manager for New Media Qualification at ZF Friedrichshafen AG, Germany. She has broad expertise in implementing online training programmes, having done more than seventy courses for different groups of employees at ZF such as technical staff, shop floor workers, as well as administrative staff.
ZF Group is a worldwide automotive supplier for Driveline and Chassis Technology. With 53,940 employees in 2005, 122 production locations in 26 countries, ZF is among the top fifteen companies on the branch's ranking list worldwide.
An overview containing brief course descriptions along with target groups and contact information is available to employees on the ZF intranet. Depending on their individual interests, they can learn English, improve their intercultural skills, or learn how to use Windows XP. Specific tips are also provided on topics ranging from computer workstations to labour laws and data security.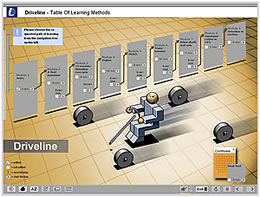 A very popular example of online training at ZF is the "Driveline" programme. Driveline was designed for all employees at ZF to become acquainted with the core business of the company: driveline and chassis technology. Students get an overview of the configuration and function of a motor, clutch, transmission, drive shaft, and axle, as well as of the interaction of components in the driveline. The function of modern communication technology in the car is also explained in generally intelligible terms.
Driveline is meant to raise all groups of employees' awareness of the key competencies of "their" company and of ZF's positioning of in the worldwide automotive production market. This online training stands for a good project plan, good and well-performed implementation, creative marketing, and the chance to reach a Return on Investment.
Ursula Hesselmann will provide insight into the design, implementation, and performance of Driveline.
Ursula Hesselmann will also speak at the Forum on E-Learning in the Automotive Industry Sector.
ZF Friedrichshafen AG  www.zf.com