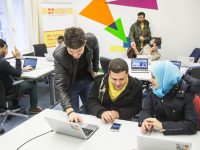 Countries emerging from a period of conflict are in dire need of their graduates. When people flee their homelands due to conflict, they often leave their education behind them – degrees unfinished, documentation lost, universities perhaps closed or destroyed. The immediate task of survival outweighs the hope of continuing their studies, while physical and social constraints may well prevent access to tertiary education. Whatever the benefits of such education for the refugees and their countries of origin – and prosperous, well-educated diaspora communities can play a big role in development – it can also offer benefits for their host countries. Refugee situations can last decades, and there is a real danger that entire generations can be left destitute, without prospects, on the fringes of society.
By Alasdair MacKinnon,
The difficulties of helping refugees pursue higher education are numerous. There may include problems of access, lack of infrastructure, and language; hostility or indifference on the part of the host country; and administrative obstacles such as transferring credits or gaining recognition for previous studies. Moreover, many refugees will have a family to support, meaning work keeps them from continuing their education.
Many of these problems clearly cry out for some sort of technological solution, but there's a caveat: refugees are not an amorphous population; they come from a vast number of places and face all sorts of different situations, so it's unlikely that any one solution will fit all. At this year's OEB, we will be hearing from three people who have been working in this field, each presenting a different aspect of the refugee situation.
It is difficult to estimate how many of the people who have fled the Syrian civil war were in higher education. The Institute of International Education gives a number of at least 100,000, as well as 2,000 university professionals. This seems to tally with the last known enrolment rate (33% in 2013 – World Bank) and the number of registered refugees (4.8 million – UNHCR).
This number represents populations in Turkey, Jordan, Lebanon, Iraq and North Africa. It does not include the more than a million people who have sought asylum in Europe; obviously it does not include unregistered refugees, nor the internally displaced. Of these 4.8 million, only 10% live in camps, the largest of which is Za'atari, in Jordan.
Sally Ward, the British Council's Regional Manager for Higher Education in the Middle East and North Africa, is involved in the Language and Academic Skills and e-Learning Resources (LASER) Project, an EU-funded initiative giving students in Jordan three months of language and academic-skills training before access to accredited online courses and MOOCs in Arabic and English.
In places like Za'atari, she explains, infrastructure is not the biggest problem. The size of the camp and the number of NGOs working there means there are computer classrooms with an internet connection – though this does sometimes go down for "security" reasons, meaning there has to be "a lot of flexibility on the part of the students and their facilitators".
There is, however, a set of general problems faced by refugee students across the Middle East, the most widespread being a lack of documentation. "Because many students left Syria under fire," Ward explains, "they don't have their identity documents or any proof of their educational attainment. This means they may have to go into university at the beginning of a course or halfway through – either because the course is not the same as the one they began in Syria or because there are no ways to assess their skills other than through certification."
It may come as a surprise to find out that Middle Eastern refugees face language barriers – even in Arabic-speaking countries. This is because of the varying education systems found across the region: Syrian universities teach in Arabic, Lebanese teach in French or English, Jordanian in English and Arabic. In addition, the Jordanian and Lebanese systems are largely private, meaning funding is a big problem.
For refugees who have sought asylum in Europe, language is very much at the fore. Fortunately, however, the EU already has well developed systems that can be adapted to help refugees. The Erasmus+ programme, which gives students in 33 countries opportunities to study abroad, deals with some language issues via the OLS, or Online Linguistic Support, a set of online language-learning courses in 12 European languages. Recently, Vanessa Debiais-Sainton, Head of Sector Erasmus+ Higher Education at the European Commission, was involved in the expansion of the OLS to cover Arabic and Turkish.
Refugees, she says, now have access to the same language courses that are available for students, VET learners, or young volunteers who are going abroad on mobility with Erasmus+. In addition, the format of the courses makes them easily transferrable across language barriers. Debiais-Sainton explains, "OLS language courses are designed based on an immersive approach, which minimises the need for refugees to master an interface language."
We would do well to remember, however, that Syrians represent only a portion of those seeking asylum in Europe. They make up only a fraction of the total number of forcibly displaced people in the world today, a population estimated at 65.3 million in 2015, the highest level in UNHCR records.
Someone who has been trying to capture some of the diversity of this global population and their access to higher education is David Hollow of Jigsaw Consult, a London-based social enterprise. His recently completed research deals with refugees' access to higher education, with a particular focus on innovative technologies. Despite the many different contexts and challenges refugees face, he has found grounds for commonality.
In particular, he mentions innovative peer-to-peer learning, facilitated by the internet, "between refugee students in different parts of the world – such as a refugee from Somalia, living in Jordan, interacting with a refugee from DRC living in Malawi … the structured peer-to-peer interaction within the curriculum of the programme is having transformative impact on students' worldviews."
David Hollow, Vanessa Debiais-Sainton and Sally Ward will present the results of their work at an OEB panel presentation entitled "Education and Training for Refugees and Displaced Persons: How to Create Policies and Initiatives that Work". Find out more about this year's conference on our programme page.