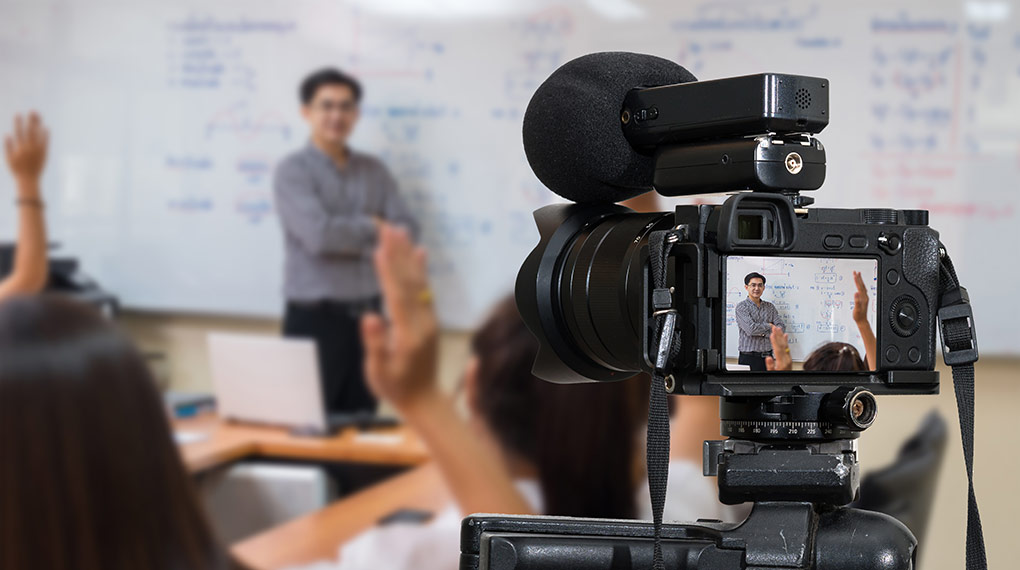 Today video is a fixture on university and college campuses the world over. More than two thirds of educational institutions use video for lecture capture, online education, and student assignments, according to the results of a 2019 survey by Kaltura. But the applications for video in education don't end there.


Colleges and universities are leveraging the power of video in classrooms and lecture halls but also in athletics facilities, libraries, and other campus spaces. Schools are live streaming graduation ceremonies so distant loved ones can virtually be there, and sporting events so alumni can cheer on their alma mater from another city. Video is also prominent in many educational institutions' marketing plans. With video content playing a bigger role in prospective students' decision making, this certainly could pay off.


The video in education trend shows no signs of slowing. Over 80 percent of those Kaltura surveyed see an increase in student expectations regarding the extent that video will factor into their learning. Meeting these expectations will only become more important as competition for students in higher education continues to heat up.


Two ways to encode video
Any school creating video content will fall into one of two categories: schools producing video through software encoders or schools producing video through hardware encoders.

Outside the audiovisual industry, the meaning of these terms and the differences between them may be a little murky. Consequently, some schools may not even realize there's a decision to be made when equipping campus spaces with AV technology. This is problematic because it's a choice with implications for video production reliability, performance, flexibility, even affordability.


Let's demystify these core concepts:
● Software encoder: An application for video recording or streaming that runs on PC or Mac hardware (e.g., Open Broadcaster Software, Panopto Recorder, and Kaltura CaptureSpace Recorder). Software encoders convert video and audio signals into a format suitable for playback on consumers' devices. Without additional hardware, most software encoders can only bring in video signals from plug-and-play webcams (known as USB video class devices), and audio from USB-based or 3.5-mm microphones.

● Hardware encoder: An appliance purpose-built for video streaming, capturing, recording – or all three. All the components in a hardware encoder were handpicked or designed for this purpose and the underlying software specially engineered for it. Many hardware encoders include inputs for non-USB video devices (e.g., HDMI, SDI) and for professional audio equipment (i.e., XLR, TRS).



Software encoding versus hardware encoding
Both methods of encoding video have their strengths. For instance, software encoding uses equipment schools probably already have on hand – namely, laptops and webcams. Staff and instructors are likely familiar with these technologies, too, and provision and replacement are simple matters when standard computer hardware is involved.

Ultimately, a video use case like lecture capture can be as simple as perching a laptop on a podium, running a slide deck, and capturing the lecturer via a built-in or USB webcam. But today's students have high expectations for professional video, probably because they're such big consumers of media. These expectations are a factor whether what students are watching is published by a news agency, a media production firm – or their school.

Hardware encoders are the key to optimal video production. Because hardware encoders are designed from the ground up for video streaming and recording, they're able to dedicate more computing power to video encoding than software encoders. Though they may have a higher sticker price, hardware encoders offer a number of important advantages over software encoder setups. And with competition for enrolment as fierce it is, any advantage is a big advantage.


Should your school invest in encoder hardware?
Hardware encoders are the ideal solution for lecture capture, school event live streaming, and many other applications for video in education. Here are a few reasons your school should invest in encoder hardware:

Greater reliability
Maintaining a bunch of PCs or laptops across a sweeping campus (or multiple campuses) can be an operational nightmare. OS and driver updates introduce bugs and compatibility issues. Applications stop working. Components fail. And when there's no easy solution, it's often unclear who to turn to. Should you reach out to the hardware manufacturer? The OS developer? The software vendor?

Challenges like these make reliability paramount for any fleet. Here hardware encoders have the decisive advantage. Every component and every line of code is attuned to the job of video encoding. There's no hardware or software modularity to account for – which means all the parts in the appliance were tested to work together and the software written for that exact configuration. This makes it easier for encoder hardware manufacturers to develop stable updates as well.
Hardware encoders also need fewer cables and components to record and stream from high-end cameras and audio equipment, making for fewer points of failure. And if something does go wrong with any aspect of the appliance, there's a single point of contact for troubleshooting and repair.



More flexibility
Software encoders can't work with non-USB video signals without a USB capture card, and recording or streaming video from multiple sources can be a tall order without cutting-edge (and pricey) components. Software encoders are also limited to USB or 3.5-mm microphones unless you invest in a separate audio interface, and can typically only capture audio from a single source.
In contrast, hardware encoders like the Epiphan Pearl Mini include multiple inputs for video (e.g., USB, HDMI, SDI, NDI) and professional audio (i.e., XLR, TRS). This way, users can connect high-end cameras, projectors, document cameras, laptops, tablets, and other devices directly to the appliance. And because they're optimized for video production, many hardware encoders can handle several encoded programs at once.
Most hardware encoders include application programming interfaces (API) and custom-built integrations that promote even more flexibility. Through these, schools can integrate appliances with existing systems for video content management, learning management, room control, and more. For instance, Crestron developed a custom control module that makes it easy to add Epiphan Pearl hardware into Crestron AV systems as a secure, reliable, and robust video capture device.


Increased cost-efficiency
It's true that producing video through PCs and laptops can be less expensive upfront. But consider the cost of the cutting-edge hardware, multiple capture cards, and other add-ons you'd need to turn a Windows-based system into a full-fledged lecture capture solution – i.e., the equivalent of what a hardware encoder can do out of the box. At that point, the initial cost difference is negligible.
In any case, operational costs over the lifetimes of PCs and laptops often eclipse what's saved in the beginning. Hardware encoders win out when it comes to total cost of ownership. Lower maintenance expenses are one reason why. Because hardware encoders are more reliable for video production than generic computer systems, less capital and fewer IT hours will go toward maintenance while they're in use.
There's also no need to purchase OS and software licences broad enough to cover all your school's video production systems. Dedicated appliances come bundled with an OS of their own. PC or laptop workstations may also need upgrading every two or three years to keep working with video content management systems as they're updated. This can run schools a couple grand per unit.


Easier operation
Through comprehensive integration with a video content management system, some hardware encoders can become hands-off lecture capture solutions. For example, our Pearl Mini and Pearl-2 hardware encoders are fully integrated with the industry-leading Panopto and Kaltura video platforms. While users need to launch and interact with software encoders to start or stop recording or streaming, Pearl can trigger these events automatically based on a defined schedule.


Learn more at OEB 2019
Join Epiphan Marketing VP David Kirk at the OEB 2019 Session – Epiphan: Hardware Video Encoders – What You Need to Know. His talk will cover uses cases in education (with real customer examples), CMS/LMS and hardware encoder integration, and how to choose the perfect appliance for your school. Also hear firsthand from an Epiphan customer about why the SAE Institute chose Pearl hardware encoders and how the institution is using Pearl systems across its many campuses.
And be sure to visit the Epiphan Video team at OEB Stand F50 to see Pearl hardware in action and to talk everything video in education.