What a spectacle! The ONLINE EDUCA Debate was the setting for a clash between two intransigent and unapologetic opponents when the biologist-cum-psychologist, Dr Aric Sigman, went head to head with the unswerving champion of e-learning, Donald Clark, who was as entertaining as ever. The two were both "up for it", well-researched, combative and determined to land a punch. Sigman's negative view of the "anti-social web" was seconded by controversial right-wing British newspaper columnist, Bruce Anderson, whereas the Silicon Valley consultant and advocate of technology, Jerry Michalski, deftly supported Clark's position. A post-debate vote was as close as a vote can get – another compliment to the main protagonists, who stoked up emotions, polarised opinion and did not give an inch.
No one anticipating a 'dust-up' between Aric Sigman and Donald Clark left the hall disappointed on Thursday. The moderator, former British parliamentarian Harold Elletson, had hardly opened the debate when the energetic exchange left the launch pad. The first quarter of an hour belonged to Sigman. His contention was that there is a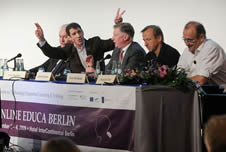 correlation between excessive internet usage and lack of face-to-face social contact, which has damaging social consequences. Once let loose on the Internet, children idle their time away for hours in endless chat rooms. Empathy and social skills are not promoted on the computer and Internet; rather they tend to be inhibited. Higher analytical thought processes are lost to these 'computer kids': arguments such as these, substantiated by scientific examples from the University of Stanford and the National Academy of Sciences for instance, provided the substance of his presentation, which he staged with a great sense of drama. However, Sigman's main concern was about the amount of time children spend on the internet and playing computer games. Up to this point, he had presented his case very well, but the revelation that he admires some aspects of conservative, totalitarian forms of education – he cited the example of North Korea – went down like a lead balloon.
Donald Clark, who went into the ring next, seized on this example and took the high ground, ripping into his opponent with relish. Education in North Korea! Anyone finding merit in this type of system could hardly be taken seriously and Sigman's claim that "the increasing use of technology and social software is damaging students' minds and undermining the benefits of traditional methods of learning" was nonsense. He declared the diametric opposite to be the case, and his two sons, amusingly presented as iPod and laptop freaks on a chart, provided the best example of how media use actually aids in making young people more intelligent. Continuing along these lines, Clark cited numerous studies and references to published works, for example a report by the US Department of Education, which showed that blended learning, in particular, produced excellent results. Clark also had much praise for the established social-networking learning tools such as MIT OpenCourseware, YouTube Edu, etc. However, the well-prepared speaker put the majority of his effort into taking swipes at Sigman. Where did his works make any specific mention of social networking? Weren't the people examined much too old? And wouldn't the results of studies into younger people disprove those obtained from research on older people?
Sigman, who was under a fierce and sustained attack, was indignant and counter-attacked with gusto. What riled him most of all was the fact that Clark had accused him of being unscientific and even of deliberate deceit. The debate became calmer, but no less spirited, when Bruce Anderson appeared on the scene, followed by Jerry Michalski. Anderson, in a very conservative manner, defended traditional cultural virtues such as reading and a deeper historical awareness, which are, in his opinion, under threat from the internet. Jerry Michalski, who outlined the benefits of social networking, gave the undecided in the audience food for thought. The "guide to the relationship economy", as he calls himself, spoke about the democratising power of the internet. Parents should help their children to grow into the internet era, which he described as the developmental phase of a "global brain". This was a good conclusion and a suitable lead-in to the subsequent public debate, which was followed by a vote.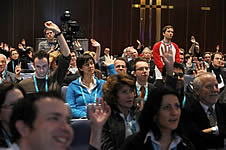 The audience, obviously entertained by the exchange, voiced their opinions with enthusiasm, and stressed, among other things, that parents have a major role to play in the media-education process. At the end of the debate, they were called upon to state their position with a show of hands. The result was slightly more votes for Donald Clark's team. However, Aric Sigman certainly managed a respectable result.
TIP
In his blog, Donald Clark again gives a great deal of thought to the debate and is still noticeably enraged by it – interesting reading for anyone who was not present at the event.
In addition, the live recording of the debate will soon appear on the OEB website.