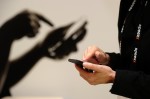 One of the key questions asked by speakers and attendees alike at ONLINE EDUCA BERLIN was why educators were not making better use of the advanced piece of technology sitting in the pocket of most school and university students these days – their mobile phone. Speakers from Blackboard and Pearson, as well as various startups and universities from around the world talked about the different ways in which mobile phones could be used to enhance the learning experience, both inside the classroom and in various other extra-curricular ways.
By Claire Adamson

Friday's plenary session 'Learning Futures: Over the Horizon' featured a talk about mobile disruption from Blackboard Mobile General Manager Kayvon Beykpour. By citing examples of various industries which have been turned on their head by mobile innovation like taxis, personal assistance and photography, Beykpour was able to make a case for why education is ready for this kind of disruption. He talked about Blackboard Mobile and how the app was helping to facilitate the connection between users and their institutes. The idea is to allow students and staff to connect with the university simply using devices they already own. He finished his talk with a quote from American philosopher Eric Hoffer, who said: 'Change prepares the ground for revolution.'
'Innovative Uses of Mobile in Education' featured several speakers who expanded upon Beykpour's ideas about mobile technology and its potential uses in education. The session, which was so popular that there were a few rows of people standing at the back, provided real life examples and user cases where mobile technologies are already providing students with new ways of learning.
Johanna Salmia of HAMK University in Finland demonstrated various ways on which smartphones could be used to take lessons and assessment out into a real world environment. She used the example of learning about plants outside. Students were able to follow a map that had been laid out by the teacher and answer questions while they were in the garden amongst the plants. Salmia suggested that new education models and processes needed to be created to take advantage of the rising number of students with smartphones.
Harri Ketamo introduced eedu, a character-based mobile learning game that was created with children in mind rather than teaching. By making learning into a game to be played outside of school time, it allowed children to explore different characters within the game. He explained how children have a greater interest in characters they've created than they do in themselves, and how creating a character can give a child something to blame failure on, letting them pursue trial and error without fear. Ketamo also pointed out the potential of the game as a social interaction tool, suggesting that children who played the game together would talk about it together.
Another point that Ketamo touched upon in his talk was how there is more access to Internet in the world then there is to schooling, and how this meant that there was huge potential for learning apps and games to have a real impact on students in developing countries.
Gail Krovitz of Pearson asked why some schools had policies banning mobile phones in the classroom and how this was a huge missed opportunity for educators. She gave an example of how a lesson could run entirely using mobile phones, and was quick to point out how all mobile phones could be used in learning, not just smartphones. As well as apps and Internet access, Krovitz suggested how everything from texting to QR codes could be used to enhance the learning experience. By using technology and devices that the students already owned, she emphasised how this engagement with technology was a low cost one for schools.
Krovitz ended her talk by countering the question of 'texting in class', suggesting that teaching students how to use mobile phones in a respectful and non-disruptive way in class was a potential learning opportunity in itself.
The final speaker was Steven Warburton of the University of Surrey, who had conducted a study on the way that university students use ereaders and epublications as a replacement to textbooks. He suggested that this was a logical step forward for the industry, because of the increased cost of shipping and production for physical textbooks. The study was carried out on law students who typically use a lot of text, and there was found to be a big digital divide of students who either loved the technology or hated it.  Students who already used smartphones and tablets found the ereader to be lacking, while students who had not yet engaged with mobile technology loved the functionality of the device and its portability.
Warburton pointed out that there were a lot of questions still to be asked regarding the use of ereaders in higher education, mostly surrounding how educational models would change to fit the format, and how the effects of the ereader could be evaluated.
All of the session's speakers emphasised in their talks that the way mobile devices are being used in education now is just a starting point, and there is a lot of change in thinking, procedure and policy that needs to happen before mobile technology becomes an integral part of education.