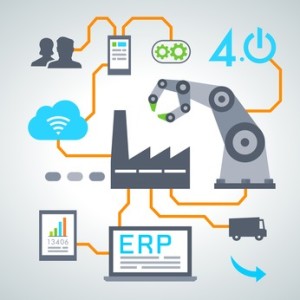 By 2020, connected and intelligent products are predicted to become the largest "user group" of the Internet, estimated at 24 billion devices.
These products won't just enrich the lives of consumers; they'll also fundamentally change the way industries are run. Smart connected devices will increase productivity, reduce the need for outsourcing, change the way consumers interact with companies and allow for seamless supply-chain improvement.
By Steven Blum
The cumulative effects of these digital innovations are what corporations like SAP and Siemens are calling the fourth industrial revolution, or "Industry 4.0." Experts believe that the revolution could become a reality in 10 to 20 years.
"As industrial devices become more intelligent and connected, they are producing huge amounts of data that can be collected and used to generate new business ideas and drive a new digital value chain," according to Ralf Russ, managing director of Accenture.
"What will be key is the response by businesses to create new business models and capabilities required to support the change that this connectivity is bringing."
For example, products can now tell machines how to interact with them, reducing bottlenecks in supply streams and creating a more efficient production line. The German Research Centre for Artificial Intelligence (DKFI) is piloting a program in which empty soap bottles are embedded with radio frequency identification (RFID) tags that can tell machines whether they should be given black or white caps. The entire assembly line becomes a cyber-physical system that enables real and virtual worlds to merge.
Connected technologies are also changing the way companies interact with their products after they've left the assembly line. Michelin now embeds sensors in their tyres, allowing their performance to be monitored by a computer network to ensure mobility and reliability.
These same technologies will make training programs more flexible and responsive. A team of German engineers are developing a head-mounted display that can recognise hand movements and superimpose video sequences to guide workers towards their next work action. So called "digital handbooks" could facilitate and accelerate the maintenance, repair or installation of complex machines using augmented reality and connected technologies.
With so many innovations improving factory operations, some believe Industry 4.0 may herald a future in which fewer companies rely on outsourced manufacturing.
"With the use advanced technologies, the cost of producing a product in North America may be equal to the cost of producing it in Asia and shipping it to North America," writes Rob Spiegel in Design News.  "With cost a wash, the differential may be improved quality in manufacturing as well as design."
With the momentous changes in industrial manufacturing that are expected, businesses will need to develop new infrastructures to monitor both the automation layer and the data this layer creates. Expertise in software and data analysis will be highly-sought after.
Technology already connects us, but once it connects our industries, it will be truly revolutionary.