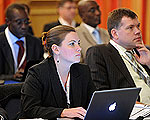 Leading experts from the worlds of security, defence and emergency services will ask participants at this year's Security and Defence Learning conference at OEB to consider some fundamental questions about the nature of modern security and the training necessary to ensure it.
How will conflicts in the future affect learning? What is the nature of modern conflict and how should we train for it? What should be the role of learning in conflict prevention, peace-building and post-conflict reconstruction?
Chris Donnelly, CMG, Director of the Institute of Statecraft and Governance and former special adviser to the Secretary General of NATO, will consider these vital questions when he presents a paper on 'Future Conflict Learning' at Security and Defence Learning 2010.
Dale Sheehan, Director of Training at Interpol, will discuss the organisation's recent experience of innovative training programmes in the fight against crime and examine the training needs of the future. Captain Dr Piotr Gawliczek, Head of Innovation at the National Defence University, Warsaw, will present a review of Poland's recent experience of innovative training for security and emergency services and outline priorities for the future.
Security and Defence Learning will be accompanied by a roundtable discussion with the regional government of Brandenburg and the New Security Foundation dinner, both of which provide enjoyable and stimulating networking opportunities. There will also be an exhibition at the conference, providing exhibitors with a platform to present their innovative learning and training solutions.
For further reading on Security and Defence Learning: www.security-defence-learning.com