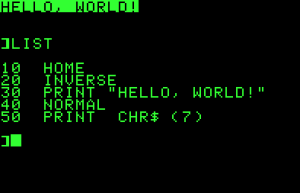 Slowly but surely, coding is coming to be recognized as an indispensable life skill; as crucial to a child's success as learning to read or write.
Not only does it teach valuable problem-solving, creativity and communication skills but, if its disciples are determined enough, they might find an even greater reward: a well-paying job. According to Code.org, there will be 1,000,000 more computing jobs than computer science students in the U.S. by 2020. Computing jobs are growing at two times the national average.
by Steven Blum
And yet, despite these developments, computer science remains an unpopular major. Less than 2.4% of college students graduated with a degree in computer science in the US last year and the numbers of graduates have dropped since the last decade.
If computer science has an image problem, a raft of new computer programs, interactive games and after-school programmes are working to change that.
Play-i, a pair of programmable robots designed by former execs at Google and Apple, teach children programming concepts through interactive play. The bigger creature, named Bo, can be programmed to dance, play music or even deliver small objects to others.
Meanwhile, Peter Neubauer, speaker at ONLINE EDUCA BERLIN 2013, is spearheading a grassroots approach in his native Sweden. CoderDojo, an after-school coding club where he works, has become a global phenomenon, with clubs in more than 22 countries teaching 10,000 children.
Dojos – which are set up, run and taught by volunteers – teach kids how to develop websites, apps, games and more using the latest interactive platforms. Children learn how to use "if / then" programming logic more through graphics and simple animation than actual code, subtly teaching them the skills needed for more abstract coding.
On one such platform, called Scratch, users create their own interactive program using scripts, costumes, sounds and commands from a menu. Children can use the tool to create animations, quizzes, arcade games, web games — anything, really.
Not only does a platform like Scratch teach children the ropes of coding, it also immerses them in the daily decision-making of programmers, encouraging them to plan their designs, create characters and test for bugs. As they advance, they create more sophisticated games and impressive animations.
While the economic incentive to churn out mini programming geniuses is obvious, teaching kids to code is about much more than that.
"The essence of computational thinking is in thinking like a computer scientist when confronted with a problem," writes Shuchi Grover, a computer science doctoral candidate at Stanford University.
"Among other things, this entails thinking logically and algorithmically – understanding not only notions of flow of control in a programmatic solution but also how to systematically break down a problem and then compose an algorithmic solution."
Shuchi thinks there's too much emphasis on learning code and not enough on emphasis on some of the deeper theories of computational science. Conflating learning how to code with learning how to create truly innovative new software is "somewhat akin to confusing architecture with construction," Shuchi writes.
"There is a shortage of coders in the nation, yes, but true innovation will come from those who understand and think about computing more deeply in disciplines beyond CS."
That said, it certainly can't hurt to understand the language that makes computer software, websites and mobile apps work.  "Coding is [still] a cool, fun, worthwhile and exciting means to get started with computing," she writes.
"But it should not be mistaken for the end."
Peter Neubauer will speak on "why your kids should learn to code" at an ONLINE EDUCA BERLIN session entitled "Ideas and Tools to Help Children Become Geniuses". In the same session, Marc Albert Cormier will speak on homework help with technology, and Elisa Rubegni on the development of a digital storytelling mobile application for a primary school.
Visit the programme page for more details!