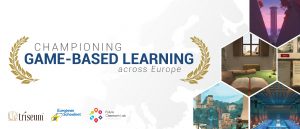 By André Thomas, CEO of Triseum & Professor at Texas A&M University
Games have long provided fun and effective ways to engage and teach students, starting in our early developmental years. It should be no surprise that they have an equally effective impact at the secondary and post-secondary levels. Immersive games allow students to apply difficult concepts in a 3D environment or live out a historical event, making curriculum more relevant and relatable. Games engage students far more than a traditional textbook. They enable students to play a more active role in their education. They motivate students to go for the epic win without fear of failure. They reinforce knowledge mastery. All of this establishes the power of game-based learning.
As European educators explore innovative pedagogical approaches, games are emerging as a means to positively impact learning outcomes. Across Europe, major strides are being made by organisations and educators alike to integrate games into the classroom. This movement is an exciting one that has the potential to revolutionise the way we teach and learn. It marks an investment in classroom engagement and student success.
Triseum, which creates immersive learning experiences for foundational subjects, and European Schoolnet, a network of 31 European Ministries of Education committed to bringing innovation to the teaching and learning process, have partnered to raise awareness of game-based learning by conducting important classroom validation studies. Together with European Schoolnet and its Future Classroom Lab (FCL), our team at Triseum is committed to advancing the use of educational games. We are collaborating with policy makers, industry leaders, teachers and other education stakeholders in Europe to support a dynamic teaching and learning ecosystem that infuses game-based learning.
Our upcoming validation study with European Schoolnet, which will take place over the 2017/2018 academic school year, will test the effectiveness of game-based learning across classrooms in five European countries. Instructors will incorporate Triseum's award-winning games into their classrooms, including ARTé: Mecenas™, which transports students to the 15th and 16th century Italian Renaissance where they commission works of art as a Medici banker, and Variant: Limits™, which brings complex calculus concepts to life in a high-stakes 3D adventure. European Schoolnet will lead the analysis of the results and publish the validation study upon the conclusion of the school year.
Throughout all of our studies, one thing has become clear: There is a tangible benefit when games are used to support education. In fact, there are strong indications that student persistence during game play may be higher than other forms of educational technology. Our research has demonstrated that ARTé: Mecenas boosts student knowledge gain by 24.7 percent after only two hours of game play, and the feedback we have received from students and faculty is overwhelmingly positive.
At Triseum, we are committed to pushing the boundaries of educational games, making them as sophisticated and imaginative as their entertainment-game counterparts, yet preserving learning efficacy supported by rigorous instructional design and research. We are excited to be a Gold Sponsor of OEB Global 2017 in Berlin this December and hope we'll have a chance to connect with you to share our game-based learning insights, research and vision.
Join to hear from Trisuem in a panel discussing game-based learning: the latest trends, uses, tips, tricks and best practices for implementing GBL.