How many of us have visited a new city but end up only seeing the airport, hotel and conference venue? Well, the ONLINE EDUCA BERLIN news team is particularly proud of their vibrant and diverse city and want to share their love of it with you. Read on to discover some insider tips and unusual attractions that will really make your Berlin trip complete. And best of all, they are all just a short train ride from the Hotel InterContinental.
The Computer Game Museum in Friedrichshain will teach you everything you need to know about gaming, gamification and the history of interactive, digital entertainment. Their permanent exhibition, Computer Games. Evolution of a Medium, features over 300 exhibits including 'rare originals' and 'playable classics'. Pong, anyone?
Computerspielemuseum, Karl-Marx-Allee 93a, 10243 Berlin. Open daily (except Tues) 10:00 – 20:00.
Station: Weberwiese, 20 minutes from Zoologischer Garten, via Alexanderplatz.
2.       Bebelplatz and the Book Burning Memorial
Flanked by the impressive 18th Century buildings of the State Opera and St. Hedwig's Cathedral and overlooked by the Alte Bibliothek of the Humboldt University, Bebelplatz is one of the grandest squares in the city. Also the site of one of the infamous book burnings carried out by the Nazis on May 10th, 1933, the square is now home to a poignant memorial to the event. The empty bookshelves visible through a glass panel at the centre of the square serve as a reminder of the vulnerability of knowledge and learning to the whims of political will.
Bebelplatz 1, 10117 Berlin-Mitte.
Bus: 200, from Zoologischer Garten to Staatsoper. 30 mins.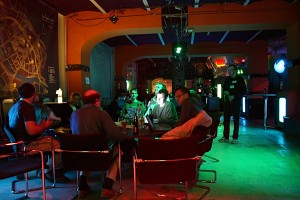 3.       c-base
"The 16-year-old space station-cum-tech art playground that acts as a meeting place for Berlin's hacker, digital art and open source community." Birth-place of the open source activists and political underdogs, the Berlin Pirate Party, c-base is a Berlin institution recognised around the world as a leader of the hackerspace movement. They put on regular events, including an investigation into privacy in the age of online surveillance on the evening of Friday, 6th December.
Whatever Happened to Privacy? A Mobilize Event, Friday 6th December, 19:00 – 21:00, c-base  eV, Rungestraße 20, 10179 Berlin.
Station: Jannowitzbrücke, 25 minutes from Zoologischer Garten on the S5/S9/S7.
4.       Museum für Kommunikation, Berlin
The museum's permanent collection illustrates the past, present and future perspectives of the information society. Additionally, you can visit the temporary exhibits, currently featuring the Red Dot Winners Selection 2013 for Best Communication Design. English audio guides are available.
Museum für Kommunikation, Berlin, Leipziger Straße 16, 10117 Berlin-Mitte. Open Mon – Fri, 09:00 – 17:00 and Sat – Sun, 10:00 – 18:00.
Station: Mohrenstraße, 20 minutes from Zoologischer Garten on the U2.
The Animal Anatomy Theatre of the Humbold University is the oldest academic building in Berlin. Recently restored, the building is now used as an installation space and features a permanent exhibition detailing the building's unique history and innovative design. The current temporary exhibit, Humanimal, explores the overlap between hybridity, fantasy and medical reality.
Tieranatomisches Theater der Humboldt-Universität, Campus Nord, Philippstraße 12/13, Haus 3, 10115 Berlin. Tues – Sat, 14:00 – 18:00.
Station: Oranienburger Tor, 25 minutes from Zoologischer Garten via Friedrichstraße. [Please check the website for specific directions. Access via Philippstraße only on Saturdays.]
Berlin's very own open digital fabrication studio and a place for cooperative making, learning, workshops and networking. They have Open Lab Days every Friday evening, so why not pop in and take a look?
Fab Lab Berlin, Saarbrücker Straße 24, Haus C, 1st Floor, door on the left. Open Lab Day: Fridays, 18:30 – 21:30.
Station: Senefelder Platz, 25 minutes from Zoologischer Garten on the U2.

Travel Advice:
When travelling on Berlin public transport, a single ticket (Einzelfahrausweis, €2.60) lasts for 2 hours. You can change lines and transport as many times as you like, but you cannot use it to go back in the same direction you came in.
A day ticket (Tageskarte, €6.70) lasts until 3am the following day and can be used as much as you like. Don't forget to validate your ticket!
Use the BVG.de journey planner, online and for mobile devices.
Enjoy your stay in Germany's vibrant capital!