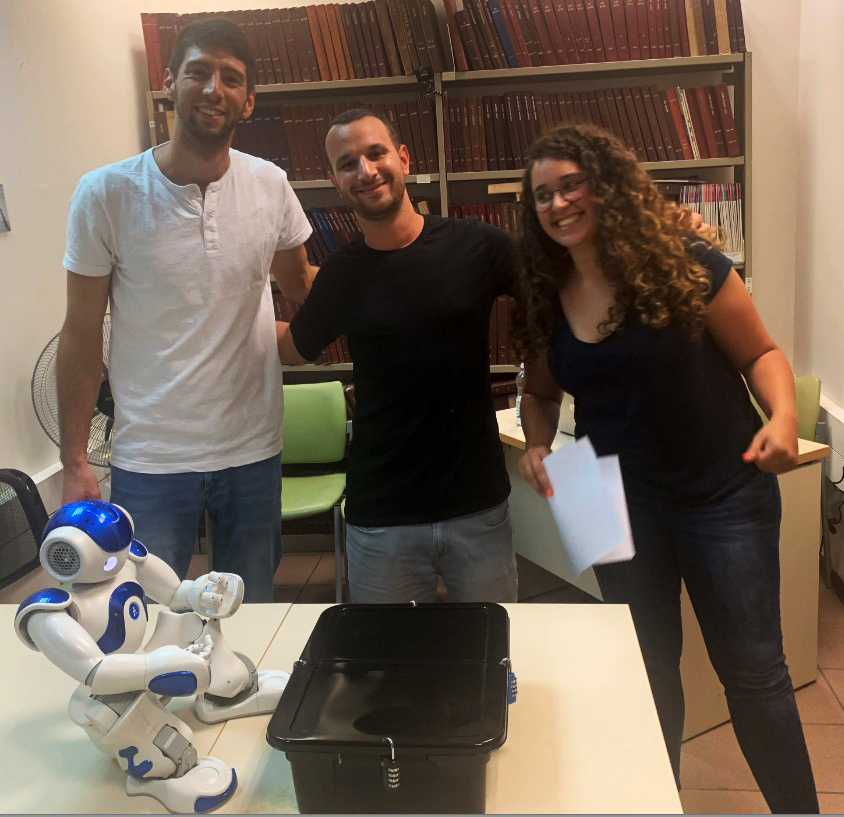 Everyone loves to play games. So do we. As part of our professional life, we design games using advanced technologies aimed at learning and training. In this project, we focus our R&D efforts on developing a team-based game scaffolded by interactions provided by a humanoid robot (HR). The project was designed with a group of undergraduate students and a team-based training expert.


A humanoid robot is a technology resembling human shape, movements, and behaviors. The robot is equipped with an advanced computing unit enabling to process rich human-robot interaction (HRI) through speech, facial gestures, and body motions. Such affordances open the way to exploit HR in a variety of fields, including corporate training. Studies show that HR can offer entertainment, enjoyment and curiosity as added values for users. These values are essential factors for increasing motivation for activities like learning and training, especially in collaborative learning games.


The theme of the collaborative training game was national security. The participants, in groups of 3-5, had to "save the Israeli nation" by locating sensitive security information stolen and stored in a vault (see the photo of students, vault and HR). Opening each of the four locks required the team to find together hints and to solve riddles guided by a "spy expert" of national security – the humanoid robot. The group could select these challenges in any order. Some of the questions were provided in the form of hard copy while others were narrowed down directly by the humanoid robot. Participants could use their own mobile devices to find out the answers for the given riddles. Also, they were required to use a dedicated mobile web-application to provide their solutions. When reaching a correct answer, the application provided participants with a code combination enabling them to open one of the locks of a vault located in the room. During the game, the robot provided the team clues and appropriate gestures presented as means of encouragement. Finally and when participants manage to open all the 4 locks, e.g., found the stolen sensitive security information, the game is concluded. The robot gave some concluding remarks of the team performance and thanked them for "saving the nation".


Participants reported an appealing and motivating experience to the extent they were highly immersed in the game combining several ingredients and aspects including intellectual challenges, coped collaboratively as a fun experience. As a result, they reported high motivation to acquire new knowledge required to answer the riddles provided along with the game. In addition, clues and feedback were said to be scaffolding and helpful. Finally, participants mentioned that the collaborative aspect augmented the perceived experience with new group dynamics enhancing educational aspects that are combined with fun.


Other comments addressing technological aspects involved in interactions occurring along with the game. In this sense, they reported that the robot by itself represented a significant anchor for the appealing experience as it is perceived as an unusual ingredient that could provide surprising reactions, comments, and gestures along with the game. Furthermore, participants claimed that the robot "forced" them to be more polite while practicing game interactions. Eventually, they claimed that game proceedings, including its training and entertainment aspects scaffolded by the humanoid robot, resulted in well-orchestrated interactions and experience.


We used a video-recorded session to conduct an evaluation study among twelve experts in areas like instructional design, learning technologies, team-based training, education, and learning games. Each of the experts was interviewed face-to-face for an hour on their overall assessment of the activity and the added value of the robot. While, all of them were enthusiastic about the innovative way of learning, its flexibility, and mobility a number of them addressed the need for the robot to be more "spontaneous" while aiming to provide a more seamless and natural human-machine interaction.


What's the next game for us with the humanoid robots? Honestly, we are not sure – but we invite you to join us to plan the game!


Written by Gila Kurtz and Dan Kohen-Vacs


Gila Kurtz is speaking on the topic Humanoid Robotics: a Magical Spice to Enhance Learning and Training Activities at OEB Global 2019.