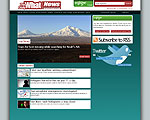 "The Daily What News" is Scotland's – and the world's – first online news service for schools. It is based on a daily live story output, around which students aged nine to sixteen, teachers and parents interact as part of the curriculum. Launched this autumn, the service represents one of the toughest content production challenges in online education. At OEB, the Editorial Director of the service, Stephen Haggard, will lead a hands-on Learning Café in which all the participants will do live co-creation of the actual articles and classroom materials that will be served the next day to Scotland's schools. Here he describes the challenges.
By Stephen Haggard
In this unprecedented real-time, content-making link-up between ONLINE EDUCA BERLIN and Glasgow, participants will directly face the demands of fitting real-world content to the disciplines of curriculum-based learning. During the Learning Café, we will also give first glimpse reports of the uptake and user response to what is certainly a world first service in e-learning.
From the start, OEB delegates will make the headlines. Working in groups, Learning Café participants will scan the day's raw news content from service partner The Glasgow Herald, one of Scotland's top newspapers. Each group will select the day's most educationally valuable story and how to present it for two bands of reading ability. The most-voted story wins and is tomorrow's front page. From Berlin we will call our Editorial Team in Glasgow and get them to start writing!
Meanwhile, laptops out, the Learning Café attendees will be faced with the next challenge. The lesson suggestions for learning around the chosen story must be written up. "The Daily What News" has a linked teacher-side, where basic ideas for lesson and homework tasks are seededand then elaborated by the 'teacher community' during the course of the day.
After previewing some examples of how a networked community of co-creating classroom practitioners turns a news story into school learning in a matter of hours, the OEB delegate groups will have ten minutes to write and e-mail their ideas for lessons and learning. Scotland's school rooms will be using these approaches the next day, so this is a risky pledge, but the team is sure that the world's e-learning brains will create good content.
Tagging and Labelling is the Key
The strongest lesson from the experience of creating and delivering "The Daily What News" has been that however good the content, if users don't find what they are looking for, it's pointless. Tagging and labelling is the iceberg in content creation. With the 800-category metadata schemata of the Scottish curriculum uploadable to the laptops of the participants and the clock ticking towards publication time, we will present the ultimate task: how to make a sensible selection of tags that will allow future teachers to locate the assets created in this session. Which age, which subject, which skills, which learning experiences? The first drafts of the day's article are already back from Glasgow and, once again, OEB delegates will have to get to work and tag them. We will go with Berlin's tags.
Stephen Haggard, Independent Consultant and Learning Executive
Stephen works internationally across the full educational range from Primary to Higher Education and professional learning, advising and supporting clients to transform what they do using New Media and online delivery. He works at a senior level to shape successful projects, empower leaders, and give strategic vision on technology, change and learning. Project types and roles in which he has a current or recent leadership role include:
Design and build of new online learning services for UK and European education authorities
Re-versioning accredited classroom- based postgraduate courses for web delivery for UK HEIs
Content strategy for publicly funded 11-16 education brands
Expert consultancy and implementation support on adoption of e-learning systems
Developing Country projects in online informal learning
Strategic advice on international growth and recruitment by e-learning for UK HEIs
Business Development/Tender writing for a major interactive content developer
Government funded research project on interfaces for complex information environments
Finally, the Learning Café will relax a bit and ask its delegates to look forward with us. We ask the groups to co-create (for real) a future asset for this service. Launched with a limited number of interactive engagement activity templates, "The Daily What News" is now looking for ideas for standardised 'templateable' formats for student online five minute activities.
We are going to ask the session delegates, who will now be experienced producers of the service, to specify and devise an educational interaction template for a news story, that can be re-used and re-cycled across many different kinds of story. This task will focus the session on the practical realities of achieving fast turnarounds and low costs in content production.
Twitter will broadcast updates throughout the session, and we will also ask Scottish students and teachers to tweet their feedback when the article and resources shaped by OEB are published live the next day on "The Daily What News".
We hopethat the guests at this Learning Café will gain optimism and courage for the rigours of fast turnaround educational content production – and perhaps feel just a little bit like they have completed a shift in the newsroom.
Links:
For more information on the "The Daily What News" Project, click here: www.dailywhat.org.uk
Learning and Teaching Scotland: www.ltscotland.org.uk/
The Glasgow Herald: www.heraldscotland.com/news
Stephen Haggard's OEB Learning Café The Daily Content: Adapting Live News with Curriculum and Teacher Support will take place on Friday, December 3rd, 2010, from 14:30 – 16:00.