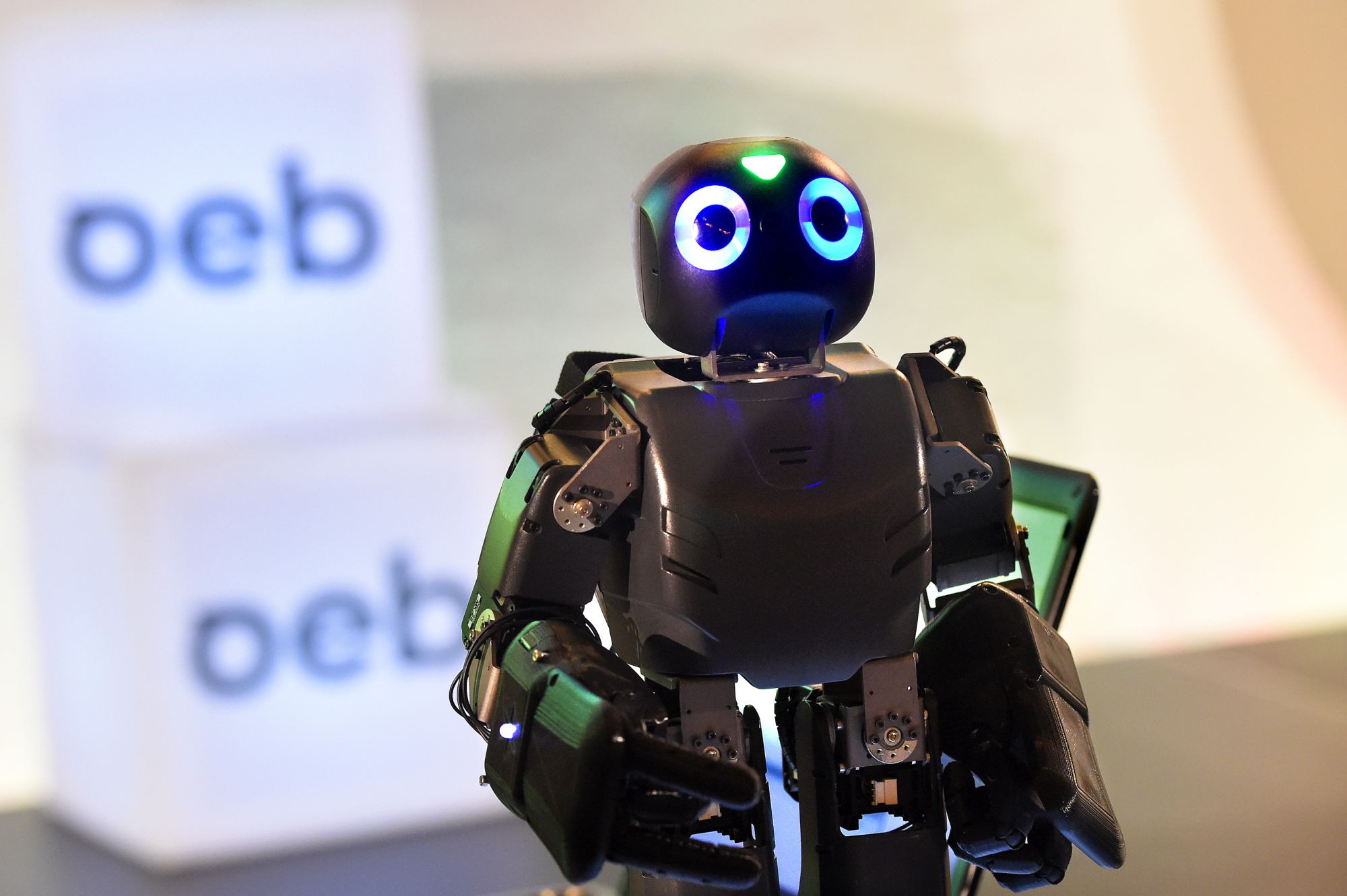 The prospects for education in a rapidly changing world defined the agenda of OEB 2015, the global, cross-sector conference on technology supported learning and training. Accelerating the shift will mean taking up the challenges posed by radical change – allowing technology to change the way we learn, helping students to learn better and faster, and helping teachers to become more effective. But what will this future actually look like? OEB 2015 provided some fascinating possible answers to this question.
By George Bodie
The coming consumer launch of products such as Oculus Rift has created a buzz around an area once seen only in the realm of Hollywood sci-fi movies, whereas now AR/VR is increasingly being used for workplace training. The 'AR-Ed and VR-Ed' session showed that, whilst this often takes the form of the recreation of work environments on mobiles or tablets, the field is increasingly moving toward more direct forms of AR. Valerie Riffaud-Cangelosi showcased her work on Epson's range of Smart Glasses, which allow for hands-free use, giving users overlays that can significantly enhance productivity, or be used for training and assessment.
Few other technologies evoke visions of a more technologically advanced future than AR/VR, and the conversation naturally turned to what's next. As Miho Tanaka, founder of award winning mobile app AirMarkr, noted, augmented reality is actually part of a long history of humans using physical augmentation to overcome problems, such as glasses or pacemakers. Both panel and audience shared some examples of fascinating new developments, from 'tactile and tangible' interactions which can recreate physical friction and resistance, to sensors which, when used in conjunction with headsets, give visually impaired people new forms of vision.
Many predict that the future will also see a boom in personalised learning. In 'Making it Real: Can Personalisation Fix Education?', Nick Kearny, who has spent the past 15 years working on a variety of educational and e-learning projects, explained how the personal learning environment has grown exponentially in the past decade. Defining personal learning as the tools, people and resources that one uses in life, Kearny claimed that 'everyone is learning all of the time, whether they like it or not'.
What emerged was an emphasis on what has been known as the 'flipped classroom' – giving students autonomy, with suggestions from the audience including getting students to collectively set exam questions, or teaching elements of the curriculum to their fellow pupils. As Kearny noted, there is room to give autonomy back, and this can have incredible effects: 'If you give people autonomy you allow them to choose what is relevant to them, you allow them to express their own creativity.'
Christel Schneider, founder and managing director of CsiTrain, a worldwide teacher training network with an emphasis on learning and teaching in virtual worlds, led a session on virtual identity. Schneider's work deals with notions of identity between physical and virtual worlds, and the effects that virtual worlds can have on the conceptions of self in the physical world. Schneider began by blurring the boundaries between the two worlds – giving numerous examples of the liminal spaces between the 'real' and the 'virtual'.
What is the upshot of this for education? Schneider proposed that virtual worlds, as spaces where identity is plastic and can be played with, provide great opportunities for learning. Schneider herself is a language teacher in Second Life and noted how avatar creation can aid the process of learning by trial and error: children suffer less inhibition and embarrassment when learning through an avatar, for it is not them who make mistakes, but the avatar. Could virtual worlds be the future of education? Schneider certainly made a case for their inclusion in the future of learning.
Corey Doctorow's passionate plea for the virtues of privacy on Thursday's opening plenary set the tone for an OEB that would see issues of privacy coming to the fore. Friday morning's session 'Protection in the Age of Data' highlighted ways in which new technologies are being used to safeguard, rather than destroy, privacy.
Erwin Bomas, a consultant at Kennisnet Foundation in The Netherlands, gave examples of programs that allows students to view who exactly is able to view their data and why. For Bomas, transparency is the key: if it is deemed necessary for data to be stored, concerned students and parents must be involved in the discussions surrounding it.
Following on from this, came a different perspective on identity concerns – verification. As blended learning and MOOCs continue to take up key positions in education markets, verification is becoming a vital issue. The session explored how new technologies are driving verification advancements, helping institutions guarantee that online courses remained credible.
The novel Future EDUCA session highlighted how learning spaces are already integrating technology into their design to benefit learners. Allan Peter Teisen – who has worked with implementation of sound systems for education for 15 years, predicted a huge shift in the aural environments in which learning takes place. Teisen originally produced technology for students with hearing impairments, but soon realised that sound systems could improve learning for all students. Children who miss words in sentences are less able than adults to 'fill in the gaps', and they are also unlikely to notify teachers, but amplifying teachers' voices has now been shown to drastically increase student achievement, throwing up the possibility that this may become the norm in tomorrow's classroom.
Fabian Girod looked at a different type of space – giving an account of the creation of an 'inno lab' at Fontys University where he is a lecturer. The innovation incubator supports student-led projects and problem solving around the university. Will such spaces be the future of supporting innovation in universities in the coming years? The session was a fitting close to two days of exploring and preparing for the future of learning, and whilst no one can predict exactly what will come next, OEB 2015 certainly offered some tantalising glimpses of where we're heading.